Agony of The Leaves
Laura Childs
Genre: cozy
Series: A Tea Shop Mystery #13
Pages: 301 (including tips, recipes, and preview)
Rating: ***1/2
Agony of The Leaves
, finds Theodosia Browning, owner of the Indigo Tea Shop in another murder mystery. This time it's her ex-boyfriend Parker Scully who is found murdered.
I walked into the library this week and came across the newest installment of the Tea Shop Mystery series. I love this series. I have read a handful of these books, I did not know there were 13 books! I've made my list of the books I haven't read. I love the characters, the setting, and I love tea. I have been drinking hot tea since I was 5 years old. Interesting story there, but I will save it for another time. On with the book.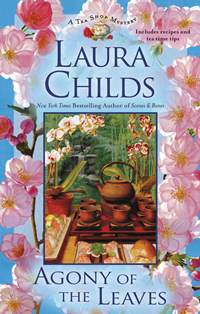 Upfront I must say I was ticked off when she killed off Parker, I liked him. At the same time, writer's have to kill off popular characters or it gets boring. There was a stretch in the middle where the plot slowed. I still enjoyed the story and reading about the characters, but it was a little slow. I also didn't like how the killer came way out of left field. I understand how the clues could point to this person, but they never made to my suspect list.
It was a good read and the last 150 pages or so are really good, but it's not as good as the other books in the series.
-Caren