Farley Follows His Nose
Lynn Johnston
genre: picture book
pages: 32
rating: ***
Farley Follows His Nose
is a picture books based on Farley from
For Better for Worse
. It's about time! Farley goes through the day, after his bath, chasing smells. He goes across town and even gets lost before returning home. During the day he helps a little find his way home.
It's a sweet book with artwork reminiscent of the comic strip. I enjoyed following Farley following his nose. It has some repetitive words for the enjoyment of little people. Big bright colorful drawings.
When Stella was Very Very Small
Marie-Louise Gay
genre: picture book
pages: 32
series: Stella and Sam Series
rating:***1/2
When Stella was Very Very Small
follows little Stella as she learns about her world. Her imagination transforms her world into amazing experiences. In the end she grows up and begins teaching her very very small brother Sam all she has learned.
This is a sweet, yes I used that word again, book. The artwork looks like watercolor. I love the drawing of Stella this tiny little red-haired girl. She is adorable. I love her vivid imagination and how she sees everything differently. It's a great book for small kids.
Clara and Asha
Eric Rohmann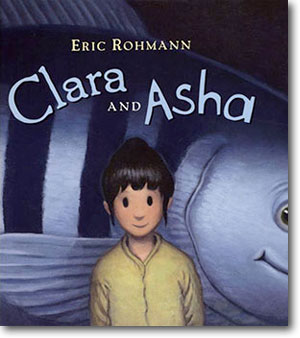 genre: picture book
pages:40
rating: *****
Clara and Asha
follows Clara through a dream like world with her friend Asha. Asha's a giant fish. But that doesn't stop the pair from having amazing adventures.
This is a true picture book. Beautiful dreamlike artwork with few words. It is a treat for the eyes. I loved searching the pictures to find any hidden object. Not that it has hidden objects. It's just that the artwork is amazing and deserves searching. Loved this book and will read it again before I take it back to the library.
Happy reading
Caren